Outdoor Lighting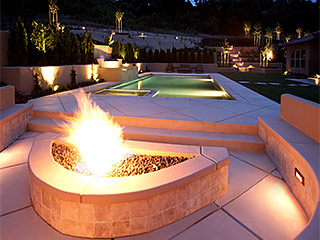 Safety, security, and beauty - these are the main reasons why outdoor lighting is a must in every property. And to achieve these goals, you should choose premium-quality lighting materials and find a professional installer. With topnotch products, your landscape lighting system will serve its intended functions. Meanwhile, expert lighting installers can give you an assurance that all lighting fixtures and components will be installed accurately and efficiently.

One of the local companies you can hire for this task is Blue Sky Maintenance Solutions, LLC. Our company employs people with the right skill set and technical knowledge. They have already designed and installed custom outdoor lighting for commercial and residential properties in the state. With us, your project will be handled only by experienced and certified technicians. We proudly serve the areas of Warner Robins, Macon, Kathleen, Byron, Perry, and Bonaire, GA. If you have some questions or need a project estimate, call Randy at (478) 231-8691.


Landscape Lighting
Outdoor lighting installation is both a science and an art. Each component must be carefully installed at its right location to function properly. The effects that it will create must be also well-thought-out. Meanwhile, the type of landscape lighting that will be used by your contractor should also meet the requirements of the outdoor area. Here are some of the commonly used lighting products:


Floodlights. They are the ideal choice for driveways, entryways, and other areas that require full illumination or visibility.
Paver lights. As the name implies, these are lights that blend well with the paver surface. They are shaped and sized like the paver stones, so they are highly recommended for garden paths, driveways, and walkways.
Wall lights. These are mounted unto walls and often used for outdoor living spaces like kitchens and patios.
Driveway lights. Similar to paver lights, but these are made specifically to light the driveway.
Poolscape lighting. Besides the obvious safety benefits, installing lights in the pool will dramatically improve its aesthetics.
Water feature and underwater lights. Specifically designed for ponds and fountains, these lights can make these water features more interesting.
Outdoor LED Lighting
LED light is becoming a popular option today because of its many benefits. First, this type of light has the ability to illuminate areas without producing too much heat. It is also available in various designs and proven eco-friendly. With outdoor LED lighting, we can set the mood in your outdoors by using various techniques, such as silhouetting, moonlighting, wall washing, grazing, and up lighting.


Low Voltage Lighting
Safety is the number one reason why you should consider low voltage lighting. This type of outdoor lighting will not pose risks to installers or your family while the system is on. In fact, you can work on it, install new lighting fixtures, or do some repair without being electrocuted. Your electricity bill will dramatically reduce because of its lower energy consumption.


Security Lighting
Your outdoors will be properly illuminated by adding professionally designed outdoor lighting. You may also install security lighting around your property to improve the security and safety in your property. This type of lighting has added features such as motion and light sensors.

If your landscape has poor lighting or no lighting at all, it's high time to call a professional lighting installer. At Blue Sky Maintenance Solutions, LLC, you can expect prompt, reliable, and top-quality outdoor lighting installation service.

"MORE ARTICLES"

Landscape Design
Landscape Maintenance
Drainage Solutions
Hardscapes
Irrigation

We Provide Services to the Following Cities and Towns in GA: