Custom Lighting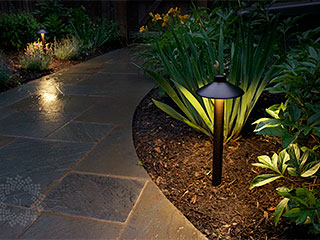 Residential property owners in and around Warner Robins, Lizella, Bollingbroke, Perry, Byron, Kathleen, Bonaire and Macon are increasingly focusing on hiring interior design and landscaping professionals to get the different areas of their home designed and installed in a very unique manner. The focus is on creating spaces that will reflect their specific tastes and preferences.

In this respect, outdoor and indoor lighting on a property plays a very important role in the overall appearance and design theme of the property. While it's important to have the right kind of lighting for indoor spaces, adding well-planned custom outdoor lighting fixtures adds to the security of the property and makes these spaces more usable after dark.

Blue Sky Maintenance Solutions, LLC is one of the most sought after lighting installation companies in Centerville, Griffin, Perry, Milledgeville, Macon and the surrounding areas. We handle projects of every scale and help customers achieve the lighting effect they want in the indoor and outdoor spaces of their home.


Indoor Lighting Aspects
The lights in all the indoor areas in your home have to complement the rest of the features that are present there. It's also important to use the layered lighting concept to ensure the fittings add to the functionality and aesthetics of the rooms.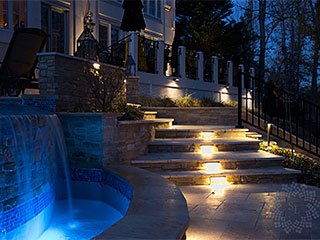 In this, we use the perfect combination of recessed lighting, task lighting, track lights and accent lighting. The idea is that the homeowner should be able to create an ambience based on their specific requirement. We can use:


Subdued lighting
Pendant lamps
Wall sconces
Chandeliers
Floor mounted lamps
Table lamps
Task lighting for kitchen and study areas
Outdoor Lighting Concepts
The lighting in these areas is as important as any lighting design plans you make for the indoor areas. In fact, if you ensure that your garden and yard are illuminated well, it can help deter vandals, trespassers, burglars and other miscreants from entering your property. Apart from this, when you have well-lit gardens, you are more encouraged to use these spaces and you are more confident with allowing your children and pets to play there.


Types of Outdoor Lighting
Our landscape designers work very closely with you and create custom lighting designs that are right in line with your requirements and fit into your budget. The different types of exterior lighting we might install on your property are:


Floodlights
Paver lights
Lamp posts
Wall lights
Driveway lights
Recessed lamps
Poolscape lighting
Water feature and underwater lights
Others
Cost-Effective Home Lighting Solutions
We focus on creating a stunning effect by lighting up large and beautifully-structured trees on your property, water features such as ponds, waterfalls and fountains, fireplaces and fire pits, walkways, pathways and driveways as well as other masonry features.

One more important aspect we focus on is the use of energy-efficient LED exterior lights. These offer 80% energy-efficiency, compared to traditional halogen or incandescent lighting.

We use the best materials and workmanship in our projects, and maintain very reasonable indoor and outdoor lighting cost. For more information about any of our services fill out our contact form and we will respond to you at our earliest convenience, or for a faster response call us at 478-231-8691.
We Provide Services to the Following Cities and Towns in GA: