Drainage Solutions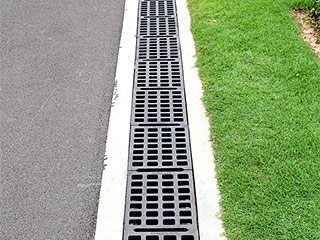 Drainage systems are critical installations in your property. They will keep your outdoor space free from storm water runoff and floods. The stability of your home's foundation and other permanent structures around your property will be protected with the installation of the right drainage type. However, a faulty drainage can result in soil compaction, muddy lawn, or landscape flooding. It can also cause expensive damages on your lawn and landscape features. Some of the serious problems that you will encounter include plant diseases, rotting trees, dying flowers, shifting rock and stone installations, and hardscapes moving out of place. You can avoid all these worst case scenarios by hiring a licensed and experienced drainage builder. It can create the right drainage solutions for your property.

Don't look far if you are still in the hunt for a drainage designer and builder. Blue Sky Maintenance Solutions, LLC is one of the state's most trusted drainage installers. We can design and build drainage solutions for residential and commercial properties. Since we also have extensive experience in landscaping, we know the right type of drainage that will keep your lawn or landscape flood-free. In addition, we have the appropriate tools and equipment for the digging and trenching jobs. These resources allow us to work fast and efficiently even if your project has complex requirements. Please call us now at (478) 231-8691 if you're from Warner Robins, Macon, Kathleen, Byron, Perry, and Bonaire, GA. We also serve other areas in Georgia.


French Drain
French drain is one of the most popular drainage systems used in residential and commercial landscapes. This sub-surface drain is typically made from perforated pipes, which is surrounded by gravel. Filter fabrics are also used to protect the drain from mud and soil particles. The French-type drain can efficiently direct surface water and ground water away from building foundations and landscaping. This drain is also installed behind retaining walls to relieve ground water pressure.


Drainage Systems
There are different types of drainage systems that you can install on your property. But choosing the right type can be a daunting task. Each drain type has specific purpose and function, so you need to have a clear understanding of the characteristics of each drain type. To be sure, just hire professional installers who can provide you with the right drainage solutions.

Meanwhile, drainage are classified into two major classifications. Your contractor may install surface or sub-surface drainage systems, depending on the need of your landscape or property. Dry creek is an example of a surface drainage. It can be incorporated in your landscape design to make it an interesting feature. The sub-surface drainage include trench and French drains. Always discuss with your contractor their recommended drainage solutions to understand how each system works.


Drain Pipe
Your contractor should use the correct type and size of drain pipes when installing a sub-surface drainage system. The drain pipe should be capable of handling rain water or storm water. For larger lawns and landscapes, your contractor should consider installing bigger pipes to accommodate the volume of water from rain or storm.


Trench Drain
A trench drain is usually made from concrete and fitted with grates or filters. The channel drain will guide and collect surface water to the drainage area. This drain type is great for areas with concrete or paved structures such as parking lots, driveways, and walkways.

If you want cost-effective and highly efficient drainage solutions, please call Blue Sky Maintenance Solutions, LLC. We are Georgia's drainage and irrigation experts.

"MORE ARTICLES"

Landscape Design
Landscape Maintenance
Outdoor Lighting
Hardscapes
Irrigation

We Provide Services to the Following Cities and Towns in GA: