Landscape Maintenance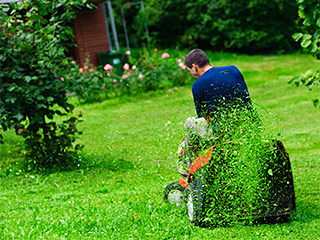 Maintaining the beauty and functionality of your landscaping is not an easy task. You have to devote much of your time and effort to various landscape maintenance tasks, such as mowing, tree trimming, fertilizing, mulching, paver cleaning, and seasonal cleanups. There are also other vital installations that must be included in your maintenance plan. It is important to conduct periodic checks on your drainage, irrigation systems, and lighting installations to ensure their proper functioning. With the enormous tasks that you will be doing on a regular basis, why not give the job to a professional maintenance contractor. It can handle all the maintenance needs of your landscape and assure you of outstanding results.

If you're from Warner Robins, Macon, Kathleen, Byron, Perry, and Bonaire, GA, you may need the services of Blue Sky Maintenance Solutions, LLC. Landscape maintenance is our specialty, and we've been providing our professional services to residential and commercial clients across the region. We can take care of your lawn, flower gardens, trees, paver amenities, and other landscape amenities. Our company has available resources to successfully complete all kinds of maintenance jobs that may be assigned to us. Please call us at (478) 231-8691 so we can assess your landscape's maintenance requirements and needs.


Lawn Care
The lawn is one of the areas in your landscape that should not be neglected. It must be maintained on a regular basis to ensure the proper growth and health of the grass. A properly maintained lawn will also improve the appeal and functionality of your outdoor area. But what are the needed lawn care tasks to achieve a spic and span lawn? Here are some of our recommendations:


weekly or twice-a-month lawn mowing
applying fertilizers on the right season
regular yard cleanups
once-a-year core aeration and de-thatching
edging of flower beds and curbing
application of pre-emergent weed control products
preventing pest and insect infestation
immediate treatment of any lawn disease
Landscaping
Your landscaping is composed of different landscape elements such as softscapes, hardscapes, water features, wood elements, and fire features. These elements require proper care for them to function properly. They can also become eyesores if they are poorly maintained. When you hire a landscape maintenance service provider, make sure that it includes all the landscape features in the maintenance plan. Your landscape will not only look beautiful but also become safer, more functional, and well-organized.


Lawn Maintenance
If you have a large lawn area, you need to have a carefully prepared lawn maintenance plan. Most contractors will offer free lawn assessment and create custom maintenance programs for their clients. If you decide to hire one, you can just request for a customized landscape maintenance plan. It is also a good idea to choose a year-round service contract. This way, you will be assured of a clean, healthy, and attractive lawn all throughout the year.


Lawn Service
Cost is another factor to consider when getting a lawn service provider. There are numerous service providers in Georgia, but some of them charge exorbitant rates. You might be tempted to get their services because of the comprehensive landscape maintenance packages that they offer. However, getting the most expensive service is not always the best option. There are still a lot of service providers in the region that offer reasonable rates. And here at Blue Sky Maintenance Solutions, LLC, our clients are guaranteed of outstanding services at client-friendly rates.

"MORE ARTICLES"

Landscape Design
Drainage Solutions
Outdoor Lighting
Hardscapes
Irrigation

We Provide Services to the Following Cities and Towns in GA: