Landscape Design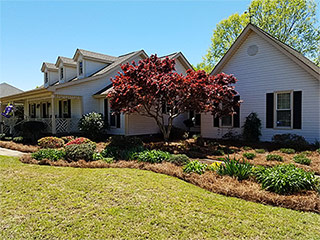 Do you wish to have a beautiful landscape complete with your desired features and amenities? If yes, you have to look for a reliable and experienced landscape designer. Professionals can guarantee a carefully prepared landscape design plan. They will use their experience to create awesome combinations of the different landscape elements. They can design a garden that can change color every season or use water elements to create a nature-like environment for your outdoors.

Achieving your dream landscape will be easy if you get the right company. Among the local companies in Georgia that can offer you professional landscape design services is Blue Sky Maintenance Solutions, LLC. We are your best option because of our extensive experience in designing residential and commercial landscapes. We employ creative landscape designers who have completed countless design projects in Warner Robins, Macon, Kathleen, Byron, Perry, and Bonaire, GA. Their designs are unique, functional, and appealing. Our designers will also ensure that every design that they create is sustainable and low-maintenance. If you are excited to see some of our works, please call us at (478) 231-8691. You may also visit our office at Warner Robins, GA.


Landscaping Ideas
Are you looking for some great landscaping ideas? Please call us and we'll discuss with you some of the popular landscaping concepts that may suit your outdoor space. We may suggest adding these features in the landscape design plan:


creation of ponds with waterfalls
tiered retaining walls for flower gardens
addition of a pergola on a patio or outdoor kitchen
beautiful paver walkways around garden areas
custom-designed fire features
garden pathways with lighting
fountains on other water features
colorful flower gardens
Garden Design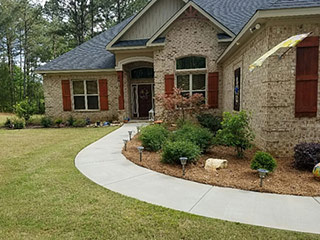 Zen and English-style gardens are popular among property owners with large landscaped areas. If you also have enough space for these types of gardens, have them designed and installed by professionals. Another garden design that you may adopt for your landscaping project is a rock garden. This is an eco-friendly option since water use is dramatically reduced.


Patio Design
The preferred outdoor feature of most property owners is a patio. This amenity is a cost-effective addition and can be designed according to your desired style. Our patio design team can create a standalone or attached patio, depending on our client's preferences and budget. Meanwhile, we highly recommend pavers because of their wide range of designs. Some of the patio themes that we can adopt include Old World, contemporary, Mediterranean, and modern. If you have your own design, just let us know and we will work on that concept.


Landscape Designer
How can you determine if you are hiring an expert landscape designer? Here are the factors to consider when choosing a service provider:


decades of experience in landscape design
ability to use modern design tools and software
in-depth knowledge of various design principles
knowledge of the topography of the local area
unmatched creativity
has an impressive portfolio of completed design projects
can transform clients' ideas into beautiful designs
highly professional and dedicated

Don't look further if you want a reliable and experienced landscape design firm. Just call us at Blue Sky Maintenance Solutions, LLC.

"MORE ARTICLES"

Landscape Maintenance
Drainage Solutions
Outdoor Lighting
Hardscapes
Irrigation

We Provide Services to the Following Cities and Towns in GA: